Driving coaching on race track (half day)
Improve your driving skills behind the wheel of your own car on the largest track of Rhône-Alpes !
Benefit from the advice of a certified instructor to improve your technique on track.
Welcoming and registering
Haut Circuit (1.3km) discovery laps with instructors 
Driving exercises (racing lines, braking, cornering) with personalized coaching
Full Circuit (3km) discovery laps with instructors
Multiple laps sessions with personalized coaching
16 cars maximum allowed
Driver's license mandatory
Be careful with noise standards at Circuit du Laquais
Any car which is not equipped with a strictly stock exhaust and intake, or even road-legal but equipped with exhaust valves that cannot be condemned from the interior of the vehicle will not be able to take part in Track Days at Circuit du Laquais. In case of doubt, and for any other clarification, please contact us by email.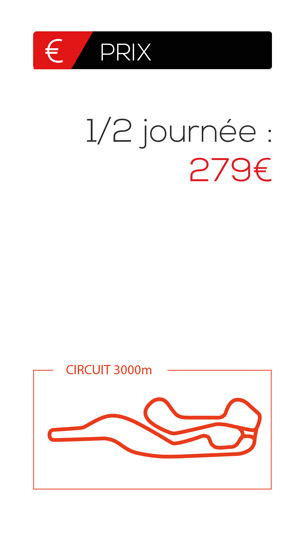 Etape N°1 : Personnalisez
Veuillez saisir le nom et prénom de la personne bénéficiaire et appuyez sur confirmer avant de passer à l'étape N°2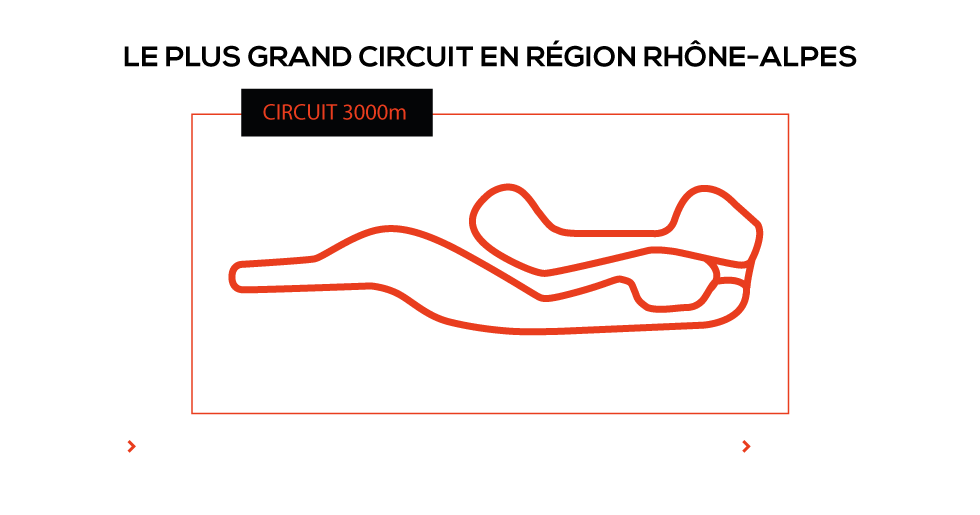 - Pour des raisons pédagogiques, les cours sont dispensés uniquement en semaine sur les journée "véhicule personnel"
- Moniteurs de pilotage diplômés du BPJEPS sport automobile
- Homologation FFSA 1ère catégorie + de 200km/h. (Le seul circuit à disposer de cette homologation en région Rhône Alpes)
- Longueur du tracé : 3 km
- Largeur de piste : de 10 à 15 mètres
- horaire de roulage : 9h00 - 12h00 / 14h00 - 17h30
- Lire le règlement du circuit avant votre commande ! (Normes de bruit)
- Consulter le calendrier en ligne pour connaître les dates "Véhicule personnel" (Réservation de la date au 04 74 54 46 98 )
Comment acheter ?
Les étapes
- Vous passez votre commande
- Nous éditons et envoyons un bon cadeau ou un chèque cadeau personnalisé au nom du bénéficiaire
- Vous nous contactez pour prendre rendez-vous
Informations complémentaires
- Bon cadeau ou chèque cadeau valable un an à compter de la date d'achat
- Envoi dans une élégante pochette cadeau par courrier ou par mail
- Expédié en 24h par courrier ou mail, après réception de votre commande
- Etre titulaire du permis B, jeune permis accepté
Product Details
coaching pilotage laquais
- Pour des raisons pédagogiques, les cours sont dispensés uniquement en semaine sur les journée "véhicule personnel"
- Moniteurs de pilotage diplômés du BPJEPS sport automobile
- Homologation FFSA 1ère catégorie + de 200km/h. (Le seul circuit à disposer de cette homologation en région Rhône Alpes)
- Longueur du tracé : 3 km
- Largeur de piste : de 10 à 15 mètres
- horaire de roulage : 9h00 - 12h00 / 14h00 - 17h30
- Lire le règlement du circuit avant votre commande ! (Normes de bruit)
- Consulter le calendrier en ligne pour connaître les dates "Véhicule personnel" (Réservation de la date au 04 74 54 46 98 )
Comment acheter ?
Les étapes
- Vous passez votre commande
- Nous éditons et envoyons un bon cadeau ou un chèque cadeau personnalisé au nom du bénéficiaire
- Vous nous contactez pour prendre rendez-vous
Informations complémentaires
- Bon cadeau ou chèque cadeau valable un an à compter de la date d'achat
- Envoi dans une élégante pochette cadeau par courrier ou par mail
- Expédié en 24h par courrier ou mail, après réception de votre commande
- Etre titulaire du permis B, jeune permis accepté